---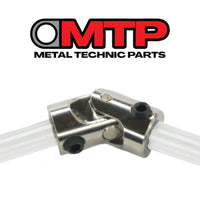 Strong METAL Universal Joint x1 fits Lego Technic

Perfect for use with our Technic style metal axles and beams in your MOC models. 


Approximately 8mm diameter and 18mm long
Please note these are a very slightly different size to standard Technic universal joints and so it is possible that may not always be able to directly replace the standard parts in standard Lego models (but we haven't heard of any issue yet!).

See more information here:
https://www.eurobricks.com/forum/index.php?/forums/topic/179234-metal-universal-joints/

Ideal for Technic RC car builds!