---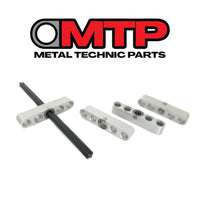 Metal Beam Bearing Block compatible with Lego Technic x 1 
The bearing beam blocks allow you to run high speeds or loads without damaging your parts. Perfect for large custom builds, MOC's, or Radio Controlled builds. 
The bearing accepts a standard plastic or our metal axles and offers a snug and accurate fit. 
Please note that shielded greased bearings offer slightly more resistance (will not spin as freely) than a standard plastic axle on plastic beam but offers the advantages of allowing much higher speeds and loads whilst keeping axles correctly orientated. 
The bearing is very slightly taller than a standard beam so allowances may have to be made to accommodate this slight increase in height in the middle of the beam. 
This is for 1 x Single Bearing Block.